Continuing Education: Ethics
Inaugural Ken Schueler Cancer Seminar - Trends in Cancer Care
CE Credit Eligible: Mar 26, 2022 - Mar 25, 2024
Program Overview:
The Ken Schueler Cancer Seminar isn't your ordinary health care discussion. The Seminar is a series of stirring, succinct talks by current and emerging health care leaders with ideas that will help improve cancer care for patients, caregivers, and members of the healthcare team. In addition to the dynamic and thought-provoking speakers, the event features interactive dialogue among attendees to discuss their challenges and ideas about their cancer journey.
Program Objectives:
Look at various types of cancer and the advances that are being made
Discuss the underutilization of Palliative Care for patients with cancer
Learn about two cancer survivors' journey and how they coped
Non-Member Purchase
You will receive an email, after checking out, with a unique passcode to input above enabling this webinar.
Continuing Education webinars are open to NAHAC members and the general public looking to enhance their knowledge and receive continuing education credit.
As a NAHAC benefit, Full Members are charged only $10.00 for a CE webinar while the general public pays $40.00 per CE credit webinar. NAHAC full members, who just want to view the webinars, can go to the NAHAC website to view the webinars at any time – no charge.
To receive the discounted NAHAC membership rate for CE webinars, access and complete an application here: Membership Form.
Members Only Purchase
You will recieve an email, after checking out, with a unique passcode to input above enabling this webinar.
Continuing Education webinars are open to NAHAC members and the general public looking to enhance their knowledge and receive continuing education credit.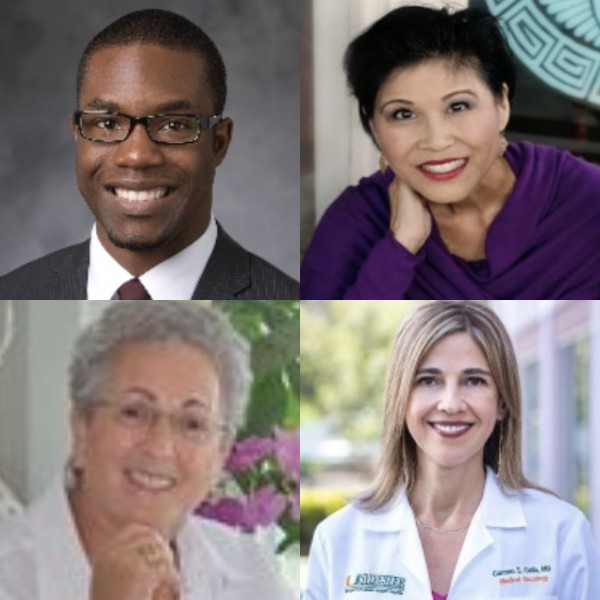 Panel
Shariann Tom, MCJC, CPCC, BS Co-Founder & CEO. The Cancer Journey Institute
Shariann Tom is the CEO and co-founder of The Cancer Journey Institute (CJI), the nation's first cancer coaching training organization. Her life was transformed after she experienced five journeys with cancer. She has nearly 25 years of coaching and coach training experience. Shariann Tom has been featured in The Wall Street Journal and Cure Magazine Online, and she has been interviewed by KGO channel 7 in San Francisco and Huffington's Thrive Global and Authority Magazine. Her latest achievement is being an Amazon #1 New Release Bestseller with her book, "The Call of Cancer: A Loving Pathway to Wholeness, Healing, and Transformation".
Carmen Calfa, MD, Assistant Professor, Breast Cancer Medical Oncologist, University of Miami Miller School of Medicine, Sylvester Comprehensive Cancer Center
Dr. Calfa is an Assistant Professor of Clinical Medicine at the University of Miami Miller School of Medicine, Associate Director of Community Outreach and Medical Director of Clinical Operations for the Survivorship Cancer Program at Sylvester Comprehensive Cancer Center. She has been recognized for her clinical care and research and has received the prestigious Zubrod 2020 Outstanding Clinical Researcher of the Year Award. Recognized for the work in the community, she is also the recipient of 2020 Miami Dolphins Everyday Hero Award.
William D. English, MBA, MSHA – Transitions LifeCare
William English grew up in a small town in Southwest Alabama called Uriah. He attended the University of Alabama at Birmingham (UAB) for his undergraduate and graduate studies, graduating with a bachelor's in health sciences and Masters in Business Administration and Health Services Administration. In 2012 after completing his graduate degrees, he accepted an administrative fellowship at Duke University Hospital. Following his fellowship training, he took on the role of Administrative Manager and eventually Administrative Director with Duke Palliative Care. In addition to his work with Palliative Care, he also worked closely with the Duke Geriatrics program on a care transitions clinical initiative called the Health Optimization Program for Elders (HOPE) as well as their Health System-wide Strategic and Operational Plan. In March of 2022, William joined Transitions LifeCare as the Vice President of Integration.
Ann Mody Lewis, Ph.D., LMHC, A Lewis and Associates, PA.
Dr. Ann Lewis earned her bachelor's degree at the College of Saint Rose in Albany, New York; her master's and Specialist's degrees from Nova Southeastern University; and her Doctorate from Fairfax University. She is the President/Clinical Director of A. Lewis & Associates, P.A. and has been a private practitioner since 1985. She is a member of the American Mental Health Counselors Association and the American Professional Society on The Abuse of Children.
Dr. Lewis writes extensively about gender socialization as a major influence on our psychological development. She has published three books and numerous articles on this subject. Her daily writings on Facebook, Twitter and her Blogs make gender a relevant topic to her readers. In more recent years, Ann has combined psychological health with spiritual development. She believes without spirituality our psychology remains incomplete.