The Patient Advocate: Promoting Client-Focused Advocacy, Confidentiality, and Privacy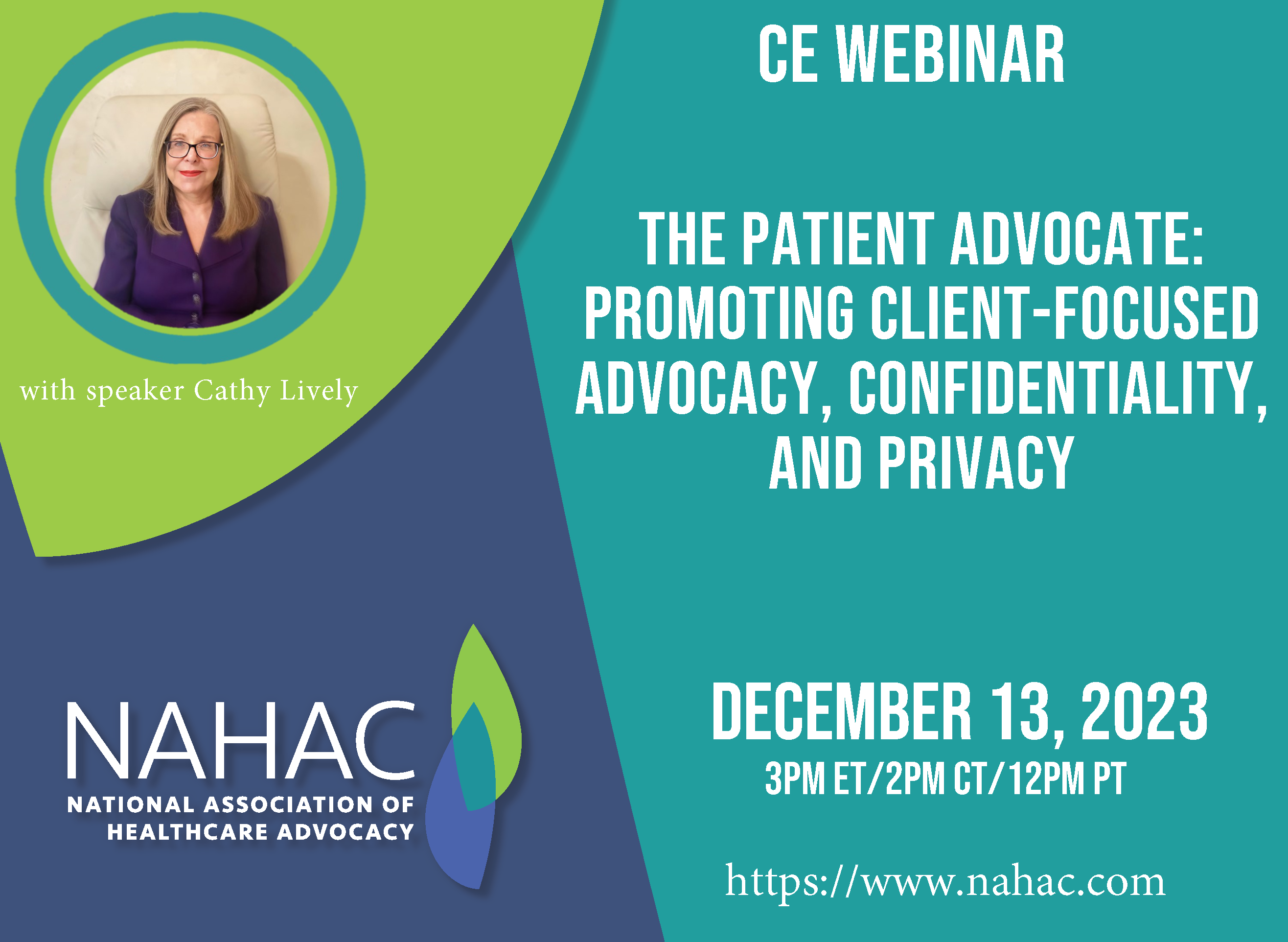 CE Webinar: The Patient Advocate: Promoting Client-Focused Advocacy, Confidentiality, and Privacy
Wednesday, December 13, 2023
3 - 4 pm ET, 2 - 3 pm CT, Noon - 1 pm PT
CE Information: Approved for 1 BCPA CE Ethics Credit
About the Webinar:
When advocating for the client, the Patient Advocate is exposed to confidential information about the client. This includes information about the client's health, financial status, family dynamics, and other social-economic factors. The advocate must be aware of the legal and ethical requirements related to maintaining the client's confidentiality and privacy. The patient advocate may encounter resistance from healthcare providers when attempting to obtain information about the client and this needs to be familiar how to obtain Protected Health Information. This presentation will review the ethical and legal aspects of confidentiality and privacy, the basic HIPAA requirements and applications, and situations in which the advocate may disclose or may be required to disclose confidential information.
Learning objectives:
Learn about confidentiality and privacy and how it impacts healthcare.
Discuss the legal and ethical requirements regarding confidentiality and privacy.
Review basic HIPAA requirements and applications.
Register Here:
Please note: Once registered, you will receive a confirmation email which will not include the zoom link. The zoom link for the event will be emailed the morning of the webinar.
About the Speaker
Cathy L. Lively, Esq. is an attorney, mediator, and arbitrator in Palm Beach County, Florida. Before attending law school, Ms. Lively was a nurse in critical care and case management. As a nurse and then lawyer, she was always interested in bioethics.
In 2016, Ms. Lively went back to school to pursue her interest in Bioethics; and graduated from Columbia University with a Master of Science in Bioethics in 2021 and is a doctoral candidate in Bioethics and Health Policy at Loyola University.
In 2021, Ms. Lively became a Board Certified Patient Advocate. Ms. Lively is a Faculty Associate at the School of Profession Studies, Columbia University, and Faculty–Alternative Dispute Resolution Academy.