2023 Ken Schueler Seminar: Trends in Cancer Care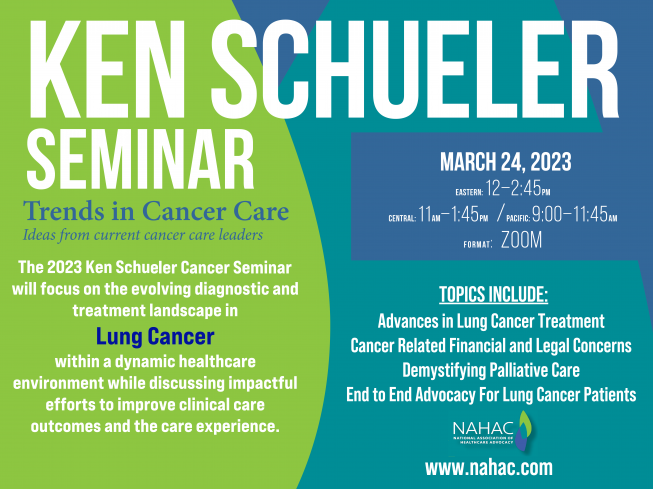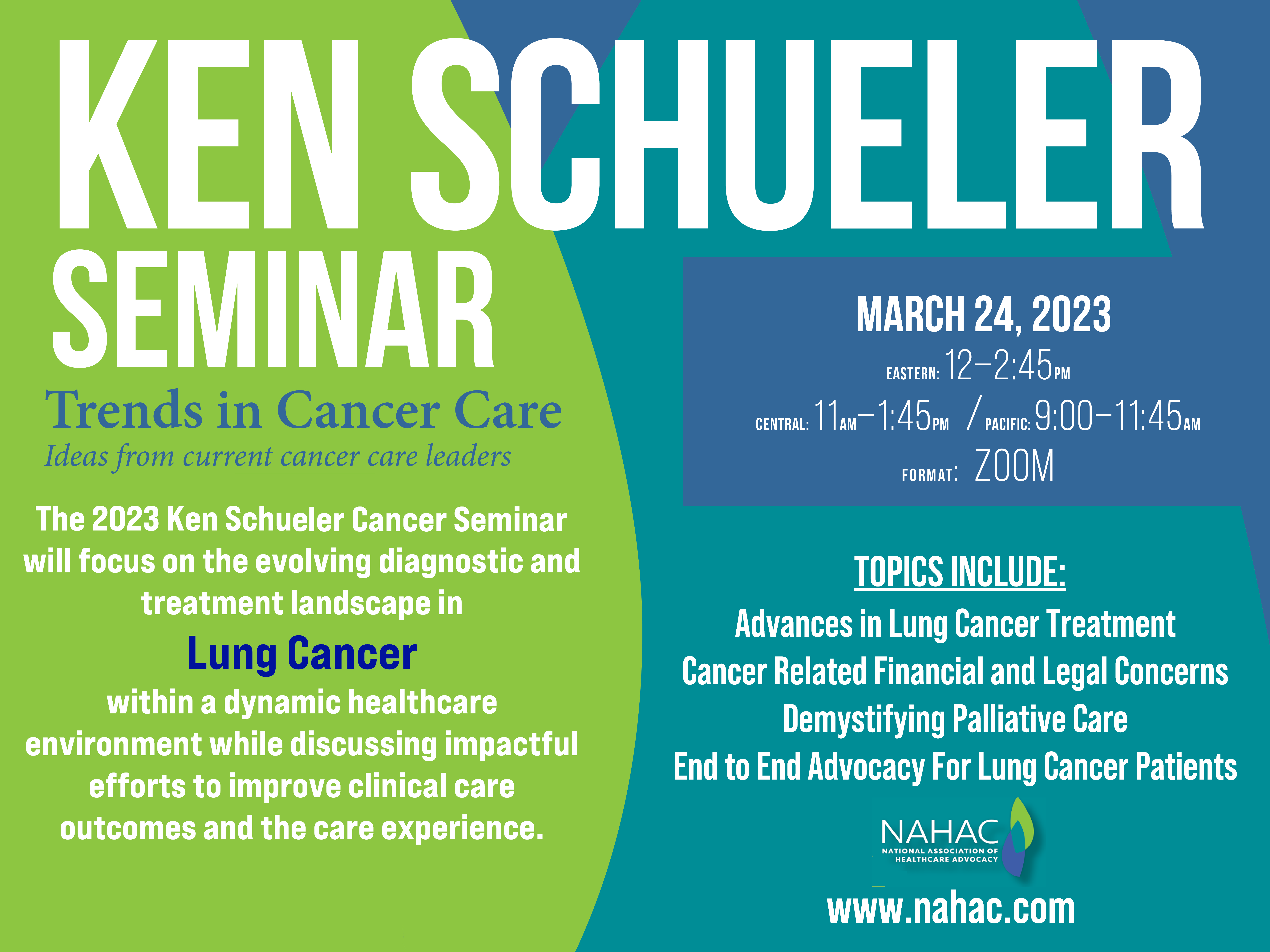 2023 Ken Schueler Seminar:

Trends in Cancer Care: Focus on Lung Cancer
WHEN: Friday, March 24, 2023
CE COST: View/Attend and earn 2.5 BCPA Ethics CE Credits: (Registration Required)
$20 for NAHAC members
$80 for non-members
Please note, this webinar has been approved for 2.5 BCPA Ethics CE Credits by the Patient Advocate Certification Board.

Learning Outcomes:
Learn about the advances taking place in lung cancer research and treatment.
Share information on how Patient/Health Care Advocates can help the patient and their family on their cancer journey.
Explain the legal and financial challenges patients with cancer face
Discuss the importance and value of Palliative care in cancer care
The 2023 Ken Schueler Cancer Seminar focused on the evolving diagnostic and treatment landscape in lung cancer. Impactful efforts to improve clinical care outcomes and the care experience within a dynamic healthcare environment will be discussed.

According to the American Cancer Society, lung cancer (both small cell and non-small cell) is the second most common cancer, not including skin cancer.
Lung cancer is by far the leading cause of cancer death, making up almost 25% of all cancer deaths. Each year, more people die of lung cancer than of colon, breast, and prostate cancers combined.
On a positive note, the number of new lung cancer cases continues to decrease due to a reduction in the number of smokers. Also, there are fewer deaths from lung cancer as a result of advances in early detection and treatment.
Our speakers for NAHAC's 2023 Ken Schueler Seminar are distinguished oncology focused professionals with expertise in prevention, diagnosis, treatment, advocacy, managing symptoms and end of life care.

REGISTER TO VIEW THIS WEBINAR and EARN 2.5 BCPA Ethics CE CREDITS:
Sessions and Speakers:
It's Not Just Chemotherapy Anymore: How Lung Cancer Diagnosis and Treatment Are Ever-Changing ~
Karen Scanlon Henry, APRN, MSN, AOCNP, Nurse Practitioner, University of Miami
End to End Patient Advocacy for Cancer Patients ~
Lea Ann Biafora, MS, RN, OCN, CCM, ONN-CG, CEO/Founder Beacon Advocates
Cancer-related Financial & Legal Concerns ~
Joanna Fawzy Morales, Esq. CEO, Triage Cancer®
Demystifying Palliative Care: Fact vs Fiction ~
Sara Dado, LCSW
Executive Director, Adult Palliative Programs, The HAP Foundation